A class for every age and ability.
Whether you like aerobics, circuits, spin, pilates, boxing, dance or conditioning, we have an incredible timetable of classes at Oakwood.
​
We have membership and pay-as-you-go options so whatever your age, ability or circumstances, we're ready to get you moving!
New timetable launches at Open Week
Wednesday 22nd September is National Fitness Day and the start of our Open Week.
Free tours, classes and workshops available
Don't put yourself in a box and say "I'm a gym person" or "I'm only into classes".
​
Mix it up, change your workouts and make sure you don't get bored!
Start your journey with us today
Book your tour to come and have a look around at Open Week (and a free coffee).
Group class descriptions
Abs and core
---
Our core is the foundation of the body. A strong core means we stand and move better, have fewer injuries and get better results from all the exercise we do. The Abdominals are a key component of the core (along with the back and other muscles) and a sensitive area which many people would like to improve. Our Abs & Core class will focus on strengthening the Abs and Core.
---
Body Blitz
---
Body Blitz was designed and made by our own instructor, Sammy. This 45 minute class is split into three 15-minute sections. 1. Cardio (for the heart and lungs) 2. Strength (improve strength in key muscle groups) 3. Core (muscles of the abdominals and back) Body Blitz is a popular class between members of all fitness levels. Sammy (instructor) will lead you through the exercises giving you progressions and regressions to make it easier and harder as necessary.
---
Box Fit
---
Time to get on the gloves and take on this fun, sweaty, stress-buster of a class! You'll learn basic routines of punches, squats and other movements to make your class into a fun boxing-orientated workout! As always, Box Fit is suitable for all levels of fitness. We do plenty of work in pairs so come with a friend if you can. If not we'll pair you up with another member so don't worry! You'll need your own gloves and focus pads for this class. These are available for sale from reception for £20. Once you've bought them you'll have them forever and it helps us keep hygiene at the club super high. If you're just doing a taster class to try it out you can borrow gloves and wraps as a one-off.
---
Core Stability
---
Our core is super-important for keeping us injury-free and moving with good posture. The main muscles of the core are around the abdominals and the back. This slower-paced class provides exercises for all levels which will challenge your core and strengthen key muscle groups. Sammy (instructor) takes anotehr class straight after this (Strong Nation) which is bodyweight HIIT class and well-worth staying for.
---
Dance Fit
---
Fitness has to be fun and if dance is your thing then classes don't come much better! Sammy will lead you through up-beat dance-based exercise routines. You'll love the music and energy of Dance Fit so come along and have a go!
---
HIIT - Gym Cardio
---
** NEW FOR SEP 2021 ** Our gym at Oakwood is being refurbished and some of the new equipment will be used in a Cardio Circuit. You'll use Ski-ergs and Assault Bikes as well as rowing machines in a Cardio-focussed circuit. These classes are short as you'll be working in a HIIT (high intensity interval training) format. That means short bursts of tough exercise with short rest intervals. Classes are typically 15-30 minutes long. The class is brilliant at burning big calories and improving your cardio (heart and lungs) function. We recommend having a reasonable base fitness level before taking on a HIIT - Gym Cardio class. Ask an instructor for more information about this if you're brand new to exercise.
---
HIIT Step
---
** NEW FOR SEPTEMBER 2021 ** HIIT Step is a new class from one of our new instructors, Mark. HIIT (high intensity interval training) is known for supercharing the metabolism, burning lots of calories in short, intense workouts. Mark will lead you through your class with a number of exercises using the step block to get creative and challenge your core and lower body while also imrpving your cardio fitness. Come and try this brilliant new addition to our timetable.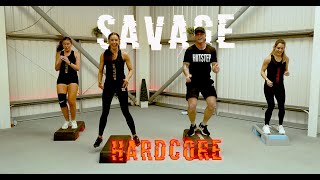 ---
Pump
---
Pump is a long-standing favourite at Oakwood. You'll use a barbell and step for a total-body strengething workout. From deadlifts, presses, curls, rows and lifts, we'll take you through routines to workout the largest muscle groups in the body.
---
Spin
---
We run 15 Spin classes per week in our outdoor, covered "Bike Shed". We use a "silent-disco" set up (you need to bring earphones) so you can hear the music and instructor without annoying our neighbours with loud music! Spin provides a brilliant cardio workout (heart and lungs) and also helps to strengthen the lower body and core. Our team of five spin instructors all put their own twist on classes with different music, styles and exercises.
---
---